Friday, April 28, 2017

Happy Friday lovely friends!

I'm relieved the weekend is here to relax a little but also entertain my in-laws as this is the first time they're visiting our new home. I had a late start at putting this post together so I'll keep it short and sweet just like I hope today plays out in anticipation of the weekend.

Friday, April 21, 2017

As always I'm relieved it's Friday! I can't even complain that I had a crazy week or anything because it was quite stress-free for a change. I'm just looking forward to a fairly quiet weekend with no big plans or traveling so I can enjoy some downtime at home.

Friday, April 7, 2017
I've thoroughly enjoyed the last few low-key weekends since we now have some busier ones on the horizon. I was hoping to go to the beach this weekend but the weather, even though it was summer-like last weekend, is now back to cooler Spring temps this weekend. I'm not complaining because the 90+ degree weather came too soon and I was worried that we skipped Spring completely and jumped right into a blistering hot Summer.
Luckily a little taste of cool weather has returned this weekend so we can still enjoy some Spring fun outdoors and in the fashion department like this adorable
Pom Pom Clutch
from Bauble Bar.
This
Tropical Safari Off-The-Shoulder dress
from Target caught my eye while browsing online. Perfect for Spring and Summer in Florida.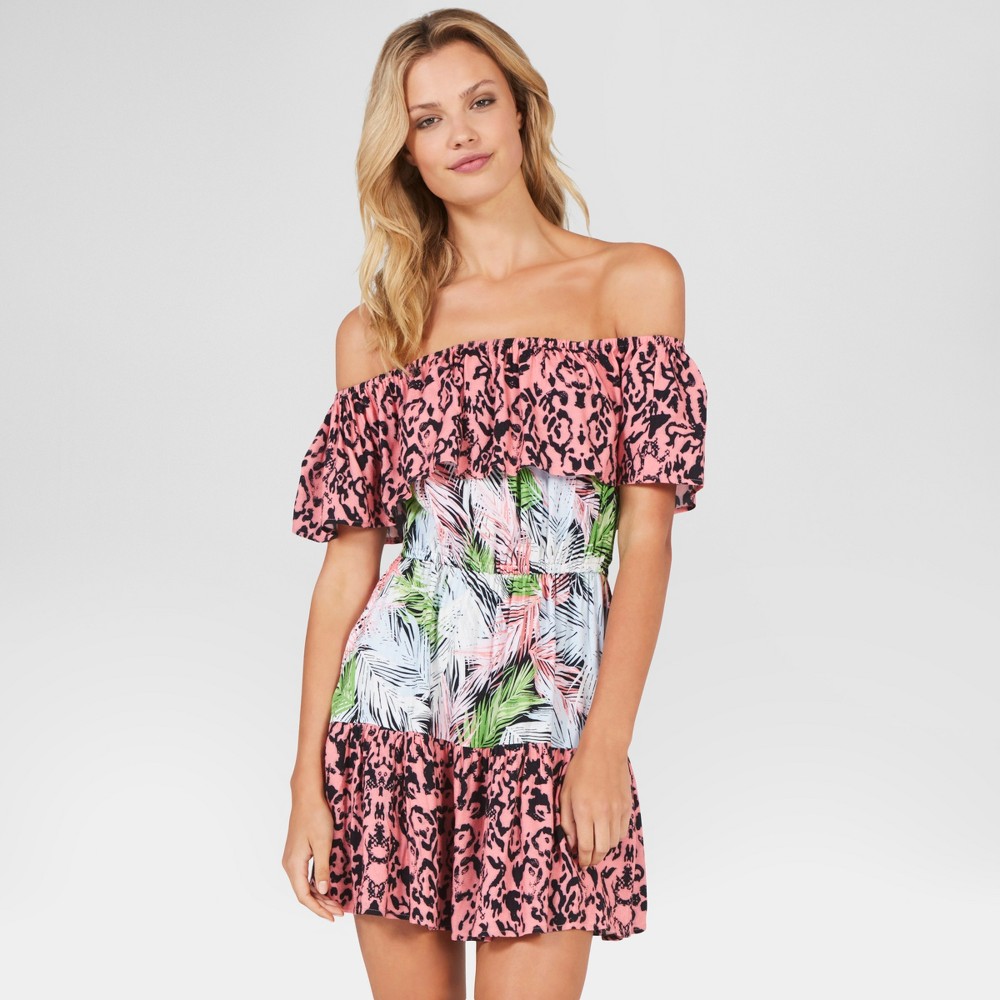 Have you tried the
Rose Oil Blend
by Pixi? I was given this as a gift and have used it as my nighttime moisturizer ever since. Another great product even though $24 is a bit steep for a facial product, I will definitely purchase again since a little goes a long way and it leaves your skin feeling incredibly soft once absorbed in.
I'm not a coffee or Starbucks fanatic but I happened to walk by one recently and decided to stop in for a little pick-me-up. I usually go for their plain coffee frappuccinos but got tempted by the sign for
their new
Toasted Coconut Cold Brew
. SO good!
This
Nobody Puts Baby in the Corner
onesie is my favorite funny and cuteness overload for the week. I had to send it to my pregnant BFF for a good laugh.
Cheers to the weekend everyone!
Friday, March 31, 2017

Happy Friday friends!

Beauty products have been on my mind lately and Spring is the best season because it brings brighter colors for clothes, accessories, and makeup. Even though I live in Florida - "the land of no real seasons" - different skincare products are needed to deal with the temperature changes and brighter lip colors are always fun.

Today I'm sharing some new products I've stumbled upon along with my tried & true products that are permanently in my beauty/skincare routine.

(The Ulta/Sephora Beauty Giveaway is at the end of this post)

New to Me

I'm so intrigued by the new Bliss Correcting Sticks to even out different tones whether it may be blemishes, redness, or discoloration. They supposedly help soothe your skin before applying tinted moisturizer or foundation. Since I have pink undertones, redness is my main concern.
<
Current Beauty Lusts
Tried & True Beauty Faves

I've mentioned these products before, if not several times, when I share my skincare routine and favorite makeup products.


Last call for a beauty haul!
Friday, March 24, 2017
Happy Friday!
It's evident I'm not much of a fashion blogger but I do love shopping and fashion in general so every now and again I find some inspiration. My outfits range from beachy to sporty casual and, on very rare occasions, dressy/elegant.
The weather this week almost hit the 90's during the day which has me dreaming of laying by the pool this weekend. I'm in desperate need of some Vitamin D, of course with lots of SPF.
Kimonos, coverups, mirrored sunglasses, and all the cute things in between for Spring (which is like Summer in Florida) are on my mind. The evenings can still be chilly enough for jeans and a jacket.
Looks from the Past

A mix of casual, beachy, and dressy. Can you tell I'm a huge fan of crossbody purses?

Fun with Friends


Recent Casual

Friday, February 24, 2017

After a super busy work week, I could definitely use a little downtime so my brain and body can relax.
The flowers in the photo above are from Valentine's day. I've said it before, I'm not a huge sucker for flowers but if you really want to give me flowers, carnations are my absolute favorite. They last long and are inexpensive. It's been almost two weeks and they look just as vibrant as in the photo.
On to some fashion, beauty, and home decor favorites...
The President's Day sales last weekend had me browsing and shopping around for good deals. I wasn't really in the market for new clothes but I picked up a few pieces for work and play at Kohl's.
I was on the hunt for a cute yet smallish backpack for traveling and finally chose
this one
. Earlier this week I shared all the
fun adult backpacks
that Target has on the shelves (or online) so it was a tough decision choosing the right one.
I compare Formula 10.0.6 skincare products to the NYX brand in terms of great value for price. I've been using the
skin toner
for a couple years now and it's my absolute favorite...with a $6 price tag.
The
mattifying moisturizer
works wonders with oil-control in the Florida heat/humidity (the only thing is it doesn't contain SPF.)
The newest product to me is the
3-in-1 Wash + Scrub + Mask
which exfoliates and fights blackheads. I tried this mask for first time over the weekend and my face felt silky soft and so clean afterwards.

Happy Friday and I hope you have the best weekend!
Friday, February 17, 2017
It's been a busy week but I've been focusing on some fun projects so I'm not complaining. Yesterday I went to Tampa for a work event and didn't get home until almost midnight so today better go by quickly. A weekend of pure relaxation is in order!
Today I'm linking up with
Amanda
sharing some favorites and things I've been up to recently.
Watching
Leah Remini: Scientology and the Aftermath
I already read and enjoyed her book
Troublemaker
since I knew very little about Scientology. The show sheds additional light on the church of Scientology from different ex-members and the stories are shocking.
Reading
The CEO of my company put the
Hug Your Haters
book on my desk and asked me to report back with an overview of how we can apply the strategies taught in this book to our company. It's not a bad read considering my marketing career and I feel like I've been getting some great insight on how to properly deal with customer complaints online and offline.
Planning
Trips, trips, and more trips! I shared my
2017 Travel Plans
earlier this week and I'm really excited that Europe is on the radar.

Cooking
K cooked up this
Ribeye with Herb Butter
recipe over the weekend except cooked it on the grill instead of pan searing and it was to die for.
Shopping
Well more like lusting at all the
pretty home decor
at Target on sale for 30% off.
That wraps up some of my favorites for this week.
Have a great weekend!
Friday, January 13, 2017
I've always considered Friday the 13th a lucky day because I was born on the 13th so, in a sense, I wanted to reverse superstition and turn it into a good day. I've had many birthdays fall on a Friday.... which you have to admit is better than a Monday!
Today I feel lucky that I have no major plans or obligations for this weekend so I can focus on getting organized around the house and with my blog schedule. I have so many fun yet unfinished blog posts that need to get published already.
Here's some random happenings from this week...
I met up with
Kate
and Baby Fashionista on Tuesday for lunch to catch up and also so I could spend some time with Serena who is such a smiley doll and the cutest lunch date!
On Wednesday I shared the details of the
Dancing With The Stars Live
show we went to over the holidays and was a fantastic production.
I started reading
The Couple Next Door
this week and I've reached to the part where the plot thickens. The beginning was mind boggling but now it has me in such suspense so I can't wait to continue reading/listening via audiobook.
Yesterday evening I met up my girl friend at our favorite sushi spot that we've been going to for years. It's kind of a tradition for us but now we both have busy schedules so it doesn't happen as often.
A relaxing weekend ahead means lots of snuggles with Lola, who photo-bombed quite a few photos while working on my "home tour project" (coming to you next week).
Enjoy the weekend and I hope today is a lucky day for you!
Friday, January 6, 2017
With Monday being a work holiday, this week seemed to just fly by which is always a great feeling! After the busyness of the holidays, I'm welcoming a fairly relaxing weekend which is perfect since the weather forecast isn't looking good!
On Fridays I usually post about some favorites from the week. Today I wanted to change it up and share favorites that are relevant to the theme of my blog (all listed in my navigation bar above).
Martinis & Bikinis
is a Lifestyle Blog so I talk about a hodge podge of things which inherently means these are the things I love and enjoy doing.
Orlando Living
I talk about my weekend whereabouts and all the things I love about my city including my favorite
sushi restaurants
,
happy hour hot spots
...and other fun things to do.
Travel
I have a huge passion for traveling so this comes in 2 parts...
Travel Planning
The only trip I have signed and sealed for 2017 is
Boston
in the Spring and I'm super excited about planning out the details of that trip!
I'm sure there will be other travel adventures throughout the year once we figure out our work schedules.
via
Travel Recaps
A recent one was our company
Cruise to the Bahamas
last month and how much fun we had exploring Nassau.
That's me learning how to use a selfie stick. Still don't own one.
Style & Fashion
I'm a shopper at heart but I like to find the best deals and stock up when things are on sale. I mainly share fashion and beauty products that are very affordable, not that $3000 purse that nobody can afford.
Recipes
I love cooking and sharing new recipes. Sundays are usually when I have time to try a new recipe and share the details on the blog. My recipe posts have slowed down recently but I do plan to share some healthy new recipes for 2017 such as this J
alapeno & Swiss Stuffed Chicken
dish.
My Life: Family & Friends
With all of the fun things aside, I don't share too much details of my family life to keep a level of privacy from the internet creepers.
What I can tell you is....
- K and I have parents that are still married (40+ years)
- We both have one sibling - both sisters
- Our extended family is huge on both sides & very close knit
- We have no kids but Lola is the love of our life (and a handful enough)
- We have a great group of friends in Orlando
- Both of our best friends are from childhood days
Happy (almost) weekend and I hope the weather treats you better wherever you are!
Friday, December 16, 2016
My birthday week has come and gone in a flash. On Monday we returned from
Islamorada
in the Florida Keys feeling refreshed and ready to take on the work week.
Tuesday was my birthday but it was back to work like any other day with tons of catching up to do all week.
Since all of my birthday celebrations were done over the weekend, we had a quiet night at home. K cooked up a nice dinner - grilled grouper and asparagus - with some wine.
I opened some cards and gifts received in the mail and one very sspecial gift from
Andrea
that literally blew me away!
The package was filled with so much thoughtful, super creative and customized items sent with love from Andrea because she's such a gem!
On Wednesday I shared a
Gift Guide for Her
with some cute gift ideas for birthdays or the holidays.
On Wednesday night I had all intentions of catching up on reading and commenting on blogs and going through my emails to get all caught up. I even had my Nassau Cruise recap 3/4 way done to be posted yesterday but I came home to internet and we were told they couldn't send a tech out to fix the problem until NEXT WEEK TUESDAY! The blogger in me is livid because I use my evenings to focus on blogging and my husband is pretty much screwed since he has a home office and needs the internet to do his job. I think that's bat shit crazy it will take them a week to fix the internet that went out for no apparent reason.
On to brighter things...
On Thursday
Sarita
featured a
Christmas Q&A
featuring
yours truly
where I talked about some of my favorite Christmas traditions and share one of my favorite party pleasers. - the
Holiday Cheese Ball
.
Today is now Friday after a roller-coaster week and I'm now wondering how boring my weekend is going to be without having internet at home. I'm going to need a glass of wine to calm down my lividness. I'm not even sure if lividness is a word but you get my point and I'll leave you with this piece of advice for the weekend...
Enjoy yours!